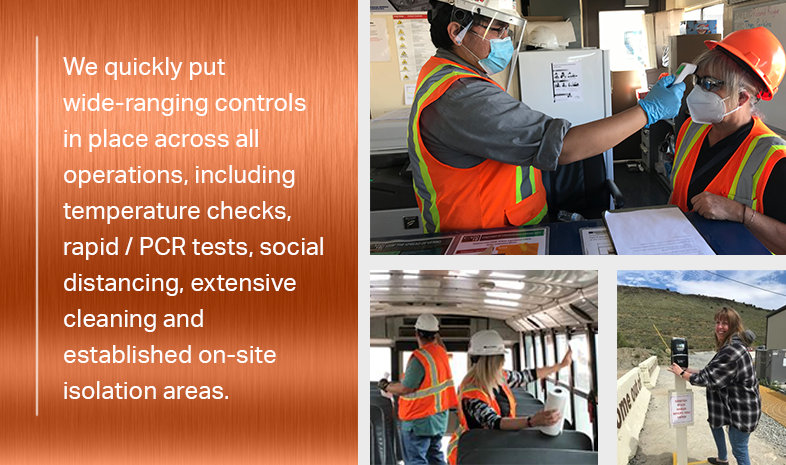 At the onset of COVID-19, we initiated rapid response efforts at our corporate office and sites. We quickly put wide-ranging controls in place across all operations, including temperature checks, rapid / PCR tests, social distancing, extensive cleaning and established on-site isolation areas.
We continue to implement various controls to reduce the risks of coronavirus based on daily guidance from world health authorities and our company medical director.
We adhere to global standards to manage health and hygiene.
We have implemented robust health protocols at our operating sites as well as testing, screening and contact tracing.
We quickly established flexible, remote working plans for all administrative employees starting in mid-March and continue with remote work where possible.
We quickly cancelled all non-essential travel.
We are committed to maintaining health benefits during the pandemic and beyond.
We offer resources to support employee mental and physical well-being.
We maintain ongoing communication and engagement efforts.
We provided employees with antibacterial masks.


COVID-19 is spotlighting the important and substantial antimicrobial properties of copper which can eliminate bacteria, viruses and other pathogens, reducing the risk of transmission.
Studies show copper could play an invaluable role in public health if used more frequently on touch surface.
Copper can reduce, neutralize and in certain cases eliminate, transmission of bacteria, viruses and other pathogens.
Current public health crisis is spotlighting these important and substantial antimicrobial properties.


OUR RESPONSE TO COVID-19 > THE POWER OF PROTECTION | Company Covid-19 Information | Communities and Health Services