NORTH AMERICA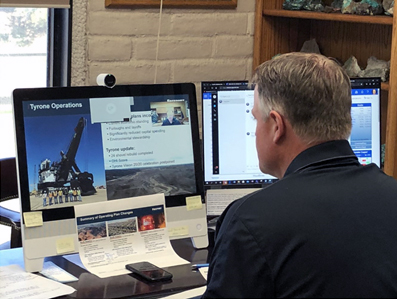 Since the onset of the pandemic, our North America operations have worked together with our local communities to address priority needs. Early on, we used our Global Supply Chain to deliver a warehouse full of items to hospitals, health clinics and first responders in 28 different locations in four states and six tribal nations. We quickly moved quarterly community meetings online to comply with social distancing precautions for large groups. We also leveraged our long-time collaboration with United Way to use company matching funds, where possible, for emergency and recovery COVID-19 community relief.
MORENCI
Our Morenci operation, together with Safford, donated 72,288 bottles of water to help tribal communities with a summer water shortage amplified by coronavirus pandemic hygiene requirements.
SIERRITA
Our Sierrita employees donated 125 boxes or 15,609 diapers for distribution to low-income families with increased need.
We purchased additional personal protective equipment for the Santa Cruz Valley Regional Hospital.
In addition, we supported the improvement and repair of trails impacted by a significant increase in traffic due to COVID-19.
MIAMI
Our Miami operation partnered with Southern Gila County Economic Development Corporation to assist local restaurants in expanding outdoor dining services (e.g., adding barriers, heaters).
Also, we partnered with a local food bank and United Way to build an additional food storage space to meet new supply needs.
SAFFORD
In Arizona, our Safford employees donated 150 pounds of canned food to two local food banks.
We supported a National Guard COVID-19 testing blitz in Graham County, sending out information to employees about how to access free tests.
HENDERSON
In Colorado, our Henderson operation helped support an outdoor ice rink in Clear Creek County to promote exercise, outdoor activity and overall mental health and well-being.
We funded holiday programs supporting area nonprofits serving those most impacted by COVID-19.
We directed our Mile High United Way company matching funds to organizations in Grand and Clear Creek Counties focused on COVID-19 relief efforts.
Also, we provided funds to help two local school districts prepare for a safe re-opening (e.g., filters to improve ventilation, equipment for outdoor learning).
CLIMAX
Our Climax operation helped the only adult day respite care program in Summit County operational capability so that caregivers could continue to work while having safe elder care for family members. Read the Summit Daily news article.
We continue to support The Summit Foundation, which established a COVID-19 emergency fund to help address critical community needs such as food insecurity, distance learning for school-aged children and mental health.
In Iowa, our Fort Madison molybdenum conversion plant donated various medical supplies and personal protective equipment to two local hospitals.
In New Mexico, our Chino and Tyrone operations held an event in collaboration with Western New Mexico University, State Department of Workforce Solutions and CO.STARTERS to provide employees and others impacted by the pandemic with easy access to job resources.
We supported a community-led food distribution initiative for seniors.

COMMUNITIES AND HEALTH SERVICES > NORTH AMERICA | South America | Indonesia